Vascular Surgery Fellowship
Welcome to the Northwestern Vascular Surgery Fellowship!
We are humbled by your interest in our program. We invite you to learn more about our training experience by watching our program video, visiting our division's webpages, and most importantly - contacting our office to learn more about who we are as a division and the patients we serve.
A Note From Program Director, Dr. Mark Eskandari
Established in 1976 by Drs. Bergan and Yao, the Northwestern Vascular Surgery Fellowship is one of the oldest training programs running in the country. This two-year clinical experience provides trainees with the necessary tools to launch a successful academic career. During training, fellows spend the bulk of their time at the downtown main campus as well as Jesse Brown VA Hospital.Both sites provide the full spectrum of open, endovascular and noninvasive vascular surgical care using advanced imaging technology (Philips Allura) for complex endovascular care.
Traditionally, a center with an extensive open surgical experience, trainees continue to participate in a wide variety of complex open operations, such as open aortic surgery, carotid endarterectomy, complex leg bypass, venous reconstructions, anterior spine exposure and thoracic outlet surgery and combined operations with urology, surgical oncology, cardiac surgery, trauma surgery and orthopaedic surgery.
As a fellow at Northwestern, you will receive exposure to many highly complex re-operative cases. The division protects the learning environment of its training programs through our robust group of physician extenders. Similarly, the strong collegial interaction with interventional radiology, interventional cardiology and cardiac surgery are elements that result in a vigorous training experience in both traditional open vascular surgery and advanced endoluminal interventions. The didactic educational conferences for the fellows and the vascular service include:
***All regularly scheduled, in-person didactic conferences have transitioned to a hybrid format as a response to the COVID-19 pandemic.
Weekly Topic-Based CME Accredited Vascular Conference
Bi-Weekly Case Planning Conference
Annual Faculty-led mock oral session
Monthly Fenestrated Case Planning Conference
Bi-Monthly CME Accredited Vascular Quality Improvement and Mortality and Morbidity Conference
Monthly City-Wide Journal Club
Annual US Access Curriculum 
Annual HD Access Curriculum
Annual Vascular Symposium
Annual Fall Visiting Professor
Annual John J. Bergan Lecture
Above all, as a fellow in vascular surgery at Northwestern, you will receive expert training from faculty that demonstrate a cohesive academic mission to deliver comprehensive, compassionate care to patients. 
Fellowship Year 1
Fellowship year 1 training length and location

| | | |
| --- | --- | --- |
| Training Length | Rotation | Location |
| 6 months | Vascular Surgery | Northwestern Memorial Hospital |
| 6 months | Vascular Surgery | Jesse Brown VA Medical Center |
* Three of our faculty members hold staff positions at Jesse Brown VA Medical Center
Fellowship Year 2
Fellowship year 2 training length and location

| | | |
| --- | --- | --- |
| Training Length | Rotation | Location |
| 6 months | Vascular Surgery | Northwestern Memorial Hospital |
| 2 months | Vascular Laboratory for Blood Flow | Northwestern Memorial Hospital |
| 2 months | Clinical Research | Northwestern Memorial Hospital |
| 2 months | Interventional Radiology | Northwestern Memorial Hospital |
*Optional elective rotations in vascular surgery at Northwestern Medicine Lake Forest Hospital
Candidates for the traditional Vascular Surgery Fellowship (5+2) must have successfully completed a general surgery residency program, as required by the American Board of Surgery, and must be board-eligible or board-certified. The program participates in the National Resident Matching Program and the Electronic Residency Application Service (ERAS); therefore, all candidates must participate in the Match.
Applications must be completed and submitted for review through ERAS by the beginning of January. Required components of the application process include:
A completed AAMC-NRMP application for Fellowship in General Vascular Surgery
A letter from the program director of your residency program
An official copy of your USMLE and ABSITE scores
An official medical school transcript
Two letters of reference, preferably from vascular surgery faculty members
After careful review by the faculty, selected applicants are invited via email to formal, virtual interviews. 
Contact Us
Jenna Little
Program Coordinator
jenna.little( at )nm.org
312-695-6107
Fellows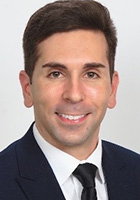 Nicholas Cortolillo, M.D.
Fellowship: 8/1/2020-Present
Senior Fellow, PGY-7
Learn More About Me
Why did you choose Northwestern? 
I chose Northwestern because of its outstanding emphasis on complex and rare vascular disorders. As a busy quaternary referral center, there is ample exposure to every aspect of modern vascular surgical care from complex aortic repair all the way to thoracic outlet syndrome. There is also no shortage of open vascular experience. We also obtain ample experience with more common, core vascular procedures as well. Most importantly, the faculty are all phenomenal mentors and role models who place a high emphasis on education and on maintaining a positive culture with respect and collegiality towards everyone. This was probably the most important factor in my desire to match here.
What is your vascular area of interest? 
My interests include post-graduate medical education, post-surgical outcomes and cost effectiveness, endovascular approaches to aortic disease, and limb salvage.
What is the best part of your training program? 
The best part of my training is that I wake up every morning genuinely excited to come into the hospital. The positive culture within our division and the professionalism that our team puts forth each and every day makes Northwestern Vascular a fun place to be a fellow.
Define the atmosphere of the program and resident life.
The best way to describe the atmosphere of our program is one of collaboration and teamwork. As a traditional fellow I have enjoyed the privilege of training alongside integrated Vascular residents and fellows, all of whom I have formed great relationships with inside and outside of the clinical setting. I firmly believe that the two tracks add greatly to each other. 
General Surgery Training: University of Miami Miller School of Medicine, JFK Medical Center
Medical School: University of Miami Leonard M. Miller School of Medicine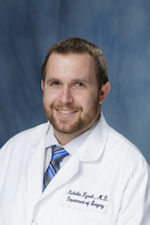 Nicholas Lysak, M.D.
Fellowship: 8/1/2021-Present
Junior Fellow, PGY-6
General Surgery Training: University of Florida, Gainesville, FL
Medical School: Emory University School of Medicine
Physician-Scientist Training & Resources
We offer a wide range of resources, mentorship opportunities and formal training programs to help our residents and fellows excel as physician-scientists. Explore all of the resources and hear from housestaff who are making research a major part of their career development plans.
VISIT THE STARZL ACADEMY SITE