Thoracic Surgery Integrated Residency Program
The six-year Thoracic Surgery Integrated Residency Program was initially approved by the ACGME Residency Review Committee for Thoracic Surgery in 2010 and accepted its first resident in 2011. This makes Northwestern one of the earlier programs of this type in the country. The goal of the program is to produce excellent cardiac and thoracic surgeons by combining intensive experience in cardiac and thoracic surgery with carefully selected experiences in general surgery and related disciplines.
The first three years of the program comprise the core surgery experience. During that time, residents rotate in a variety of general surgical specialties aimed at providing education in the care of routine and critically ill patients as well as early operative experience. Rotations include trauma surgery, vascular surgery, minimally invasive gastrointestinal surgery, surgical intensive care, transplant surgery, plastic surgery and several community general surgery experiences. Additionally, residents will spend five months in general thoracic surgery and five months in cardiac surgery during the first three years. Focused rotations in related specialties include cardiology critical care, cardiac anesthesia and interventional cardiology/cath lab. Throughout the entire core experience, residents remain firmly connected to the thoracic program by participating in all weekly didactic sessions, direct mentoring with thoracic faculty and ongoing clinical research projects.
The final three years of the program are equivalent to the classical thoracic surgery fellowship with rotations in thoracic surgery, cardiac surgery and congenital heart surgery. Residents take on graduated responsibility for increasingly complex patients and operations and learn to manage a busy and complicated practice in preparation independent practice after graduation. The thoracic surgery rotations focus on the diagnosis and treatment of common and complex pathologies of the lung, airway, esophagus, chest wall and mediastinum. The Robert H. Lurie Comprehensive Cancer Center of Northwestern University provides a wide range of experience in malignant lung and esophagus tumors as well as metastatic disease to the chest, malignant pleural disease, mediastinal tumors and chest wall masses. There is extensive multidisciplinary collaboration establishing a model for patient-centered care. Close relationships with Pulmonary Medicine and primary care practices ensure residents are well versed in the diagnostic and therapeutic techniques for benign lung, airway and pleural disease as well. The newly opened lung transplant program extends these experiences to include treatment of advanced end-stage lung disease via lung volume reduction and single and bilateral lung transplant. Finally, our service is intimately involved with the Gastroenterology Esophageal Motility Disorders Center at Northwestern, which sees a large volume of patients with complex benign esophageal disease, including failed anti-reflux procedures and end-stage achalasia.
The adult cardiac surgery rotations in the early portion of training focus on use of cardiopulmonary bypass to treat straightforward ischemic and valvular disease. As residents become comfortable with the basic skills and concepts, they take on graduated responsibility for increasingly complex patients and operations and learn to manage a busy and complicated service. During the fifth year, the residents spend one month in the cardiac cath lab to learn advanced wire skills in preparation for performing endovascular aortic and valvular procedures. The cardiac experience culminates in the cardiac surgery chief position for six months in the final year, during which the resident runs all of the day-to-day activities of the service.
The congenital heart disease rotation occurs near the end of the fifth year at Ann & Robert H. Lurie Children's Hospital of Chicago, located across the street from Northwestern Memorial Hospital. This experience is designed to provide residents with an appreciation of the spectrum of congenital heart disease as well as an enhanced understanding of cardiac hemodynamics, which can be applied to adult disease. Certification in congenital heart disease does require an additional year of training. However, for those with an interest in congenital surgery, additional time can be spent at Lurie Children's during their final year. Three months of elective time in the final year is designed to allow residents to focus in an area of specific professional interest. This may include heart failure, congenital heart disease, great vessel disease, lung transplant, minimally invasive thoracic surgery or other areas.
Schedule
Schedule for Conferences
Monday
Tuesday
Wednesday
Thursday
Friday

7:30 SBRT conference (rad onc)

7:30 Cardiology grand rounds

7:30 TAVI conference

7:30 multidisciplinary heart failure conference

12:30 Sarcoma conference

4:00 GI oncology conference

5:00 Benign esophageal disease conference

7:30 Cardiac cath conference

7:45 Thoracic oncology conference

7:00 General surgery grand rounds

8:00 General surgery resident conference

9:00 PGY1/2 skills lab

7:00 Thoracic residents' conference
Thoracic Sample Topics
Lung Cancer, Part 1: Practice management; evaluating the solitary pulmonary nodule; staging - how to assess T, N, M; staging - treatment by stage, outcomes; errors in medicine; why is lobectomy the gold standard; evaluating the marginal patient; complications of lung resection
Lung Cancer, Part 2: Role of segmentectomy; vascular anastomosis lab in NCASE simulation center; chemotherapy; adjuvant chemo for IB disease and stage II disease
Cardiac Sample Topics
Critical Care: Vaspopressors; IABP; temporary pacemakers; M+M; managing postoperative bleeding; advanced ventilator management; on-call scenarios
Heart Transplant: Bypass pump basics; vascular anastomosis lab in NCASE simulation center; M+M; heart transplant recipient selection/how the list works
All applications must be submitted via the Electronic Residency Application Service (ERAS).
The deadline for application is Oct. 30, 2022. Applications received after that date will not be reviewed.
A complete application includes the following:
ERAS application
Three letters of recommendation
Personal statement
USMLE transcript
Medical school transcript
Medical school performance evaluation (dean's letter)
ECFMG certificate (if applicable)
Our application review committee considers the entire application, in a holistic approach. Therefore, we do not have any minimum score requirements. 
Personal interviews are by invitation only and are required for acceptance to our program. Applicants who we wish to invite to interview will be notified via ERAS email on Monday, November 7, 2022.(Date changed due to scheduled ERAS Maintenance from November 4-November 6, 2022). This year's interview date is Friday, January 6, 2023. All interviews will be virtual. 
No previous U.S. clinical experience is required to apply to our program.
We do not have a minimum/maximum number of years from medical school graduation date requirement.
The preferred visa for training at the McGaw Medical Center of Northwestern University is the J-1 visa sponsored through the ECFMG for residency/fellowship training.
Applicants should be ECFMG-certified by the application deadline (Nov. 1).
We offer both a Cardiac Surgery and Thoracic Surgery elective rotation for visiting medical students. For more information, please
visit the MD Education site
. All visiting medical students must apply through Visiting Student Application Service.
Andre Son - PGY 6
What inspired you to pursue CT as a career?
Cardiac surgery has the most active team dynamics. The surgeon leads an operating room of perfusionists, nurses, and anesthesiologists communicating and working work together for a single patient. Outside the OR, the pace is slower, but teamwork is just as important in the multi-disciplinary model for patient care. 
What do you enjoy most about training at Northwestern?
The culture in NW cardiac surgery was built around working as a team to care for patients while improving knowledge-base and technical skills. The program was designed to give trainees exposure to all aspects of the field: heart failure, structural heart disease, great vessel disease, coronary artery disease with all approaches from transcatheter to minimally invasive approaches to multi-redo sternotomy cases.  
What has been the most interesting experience from your residency so far?
Working with the junior and senior integrated residents. It is exciting to teach junior residents in the operating room; I get to show them tips that my seniors showed me and skills that I picked up along the way in hopes that they are even better than I was at the same level.  It's especially rewarding to watch them absorb the advice and advance technically in a short period of time.  
What are your clinical interests?
What advice would you give medical students?
If you are interested in cardiac surgery, spend time in all aspects of the field now: operating room, ICU, clinic, etc. If you find yourself enjoying cardiac surgery more with each exposure, it's the right field for you. Don't think you want to be a cardiac surgeon just after a handful of experiences in the operating room. It is a demanding field, and you must enjoy it even on the hard days.  
What is your favorite thing about Chicago?
The weather. Yes, even the cold winter! 
Fun facts about you:
My wife and I couples matched to NW (CT Surgery and General Surgery) 

We got puppy during the pandemic, and it has been the best decision we have made together as a couple 
Aaron Clark - PGY4
What inspired you to pursue CT as a career?
CT surgery is a career that I've been interested in since college. I found the pathophysiology very interesting to learn, and I thought a career in cardiothoracic surgery would be ever evolving, challenging, and rewarding. I can't imagine doing anything else. 
What do you enjoy most about training at NW?
I enjoy most of all the people. The nurses, APPs, staff, and coresidents that I have the privilege of providing patient care with on a daily basis is the part of my job that I enjoy the most. 
What has been the most interesting experience from your residency so far?
I really enjoy the complex cases, particularly aortic cases.  Thoracoabdominal aneurysm repairs are the most interesting cases to me because of the pathology, preoperative planning, collaborative approach, and technical aspects of a complex repair. 
What are your clinical interests?
I am interested most of all in adult cardiac surgery, most notably aortic and mitral valve repair, aortic root and arch repair, and advances in transcatheter approaches for these pathologies. 
What advice would you give medical students?
I would tell medical students that residency is challenging but extremely rewarding and an incredible experience to learn from those who have mastered specialty, whatever that may be. When choosing a program for residency, find a program with a culture that you will fit in to and make the most out of your training. This often comes down to the people that you surround yourself with. 
What is your favorite thing about Chicago?
My favorite thing about Chicago are the things to do, restaurants, and the lake front. I really enjoy running and biking along the lake front trail when I have time. 
Fun facts about you
I am from Indiana and have 2 younger brothers, who live back home. They frequently visit for concerts and to watch the Cubs current mediocrity. In my free time I really enjoy the delicious restaurants of Chicago, traveling with my girlfriend Claire, who I met at Northwestern as an intern, very amateur golfing, and biking the lake front trail. 
Contact Us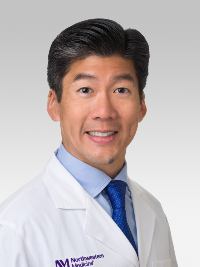 S. Chris Malaisrie, MD
Program Director
Learn More
S. Chris Malaisrie, MD is a cardiac surgeon at Northwestern Medicine, associate director of the Center for Heart Valve Disease at Bluhm Cardiovascular Institute, co-director of the Marfan Syndrome and Related Disorders Program, co-director of the Thoracic Aortic Surgery Program, and Program Director of the Thoracic Surgery Residency Programs (Integrated and Traditional). He is an associate professor at Northwestern University Feinberg School of Medicine. Dr. Malaisrie's special interests include Marfan syndrome and related connective tissue disorders, bicuspid aortic valve, aortic aneurysms / dissections, chronic thromboembolic pulmonary hypertension, and mitral valve disease. In addition to complex aortic surgery encompassing valve repair, valve-sparing aortic root replacement, aortic arch reconstruction, thoracoabdominal aortic repair and endovascular stent grafting, Dr. Malaisrie performs minimally-invasive valve repair, transcatheter valve replacement, and pulmonary thromboendarterectomy. Dr. Malaisrie is board certified by both the American Board of Surgery and the American Board of Thoracic Surgery. Dr. Malaisrie completed his thoracic residency at Baylor College of Medicine and completed his cardiac surgery fellowship at Stanford University.
Hemali Shah C-TAGME, PACE
Education Coordinator
hemali.shah( at )nm.org
312-926-5136
Physician-Scientist Training & Resources
We offer a wide range of resources, mentorship opportunities and formal training programs to help our residents and fellows excel as physician-scientists. Explore all of the resources and hear from housestaff who are making research a major part of their career development plans.
VISIT THE STARZL ACADEMY SITE