Curriculum
The dynamic clinical curriculum of the General Surgery Residency Program prioritizes education over service, faculty trained to teach and hired with clear expectations of their role as facilitators of learning and an educational structure that values residents as a group and as individuals with separate learning needs and ambitions.
Our program includes the following training:
3 junior clinical years
2 professional development & research years
2 senior clinical years
Our residents receive exposure to the preoperative, operative and postoperative care for patients in the principal components of general surgery:
Acute care surgery/trauma (PGY1, PGY2, PGY4*, PGY5*): busy service with new consultations and trauma throughout the day, focus on triage of a wide variety of patients and graded autonomy
Breast (PGY1, PGY3): intern year apprenticeship with Dr. Kevin Bethke
Colorectal (PGY1, PGY4, PGY5): board exposure to comprehensive pre/peri operative management and operative experience in disease process colon/rectum
Endocrine (PGY3): management of surgical diseases of the thyroid, parathyroid, adrenal gland and islet cell tumors of the pancreas
Gen Surg (VA) (PGY2, PGY5): pre/peri-operative management and operative exposure in colorectal, foregut disease, gallbladder, and simple laparoscopic surgery
GI/MIS (PGY1, PGY2, PGY5): advanced and complex laparoscopic foregut surgery; emphasis on understanding basic anatomy, suturing and tying skills, and tissue handling
Mueller apprenticeship (PGY2): primarily performing cholecystectomies, inguinal hernias, abdominal wall hernias and soft tissue excisions with an apprenticeship model with Dr. Kyle Mueller
Nagle apprenticeship (PGY5): operative experience in basic general surgery including colon, small bowel, foregut, and advanced laparoscopic surgery in a one-to-one apprenticeship setting
Night float (PGY1, PGY3, PGY4*, PGY5*): variation and variability are the hallmarks of a night float rotation.  Develop cross-cover and triage skills. Assess high-acuity patients and perform emergent cases
Pediatrics (Lurie Childrens) (PGY1, PGY3): preoperative, operative and postoperative care of surgical and potentially surgical diseases in neonates, infants, children and adolescents
SICU - day/night (PGY1, PGY2): provide critical care services to a variety of peri-operative patients and perform ICU procedures
Surgical oncology (NMH & CDH) (PGY1, PGY3, PGY4, PGY5): surgical management of GI oncology including hepatobiliary, gastric, small bowel, and sarcoma/melanoma involving skin and soft tissue
Thoracic (PGY1, PGY3): broad exposure to the comprehensive management of simple and complex thoracic diseases
Transplant (PGY3): comprehensive pre/peri-operative management and operative experience in patients undergoing kidney and live transplantation
Trauma (Cook County) (PGY1, PGY4): high-penetrating trauma only service in a safety-net county system, emphasis on trauma evaluation, resuscitation, operations, and ICU care
Vascular (NMH & CDH) (PGY1, PGY2, PGY3): high volume of vascular disease and surgical management
*One PGY4 or 5 is on service at time acting as a chief
Each rotation is a "course" with learning objectives, clarified performance expectations, list of operations, description of the rotation's logistics and clinic/OR schedule and criterion on which the resident will be evaluated. 
On all clinical rotations, the care of patients is ultimately the responsibility of the attending surgeon. Nevertheless, responsibilities for patient care is assigned to residents at the discretion of the attending surgeon. For residents in the junior years of the residency, such responsibilities may include observation of the preoperative treatment planning, participation in straightforward operations, monitoring of patient condition following surgery, arrangement for discharge and participating in follow-up care in the attending surgeon's office. For residents in the senior year, responsibilities may including formulating a preoperative plan of care for approval by the attending surgeon, participating in complex operations, monitoring of patient condition following surgery, ordering appropriate tests, making recommendations for change in postoperative treatment as indicated and participating in follow-up care in the attending surgeon's office.
The following conferences are designed to supplement residents' self-directed learning.  Residents' education time is protected to enable maximal participation and attendance.

Core Curriculum

Our Core education series is based on the This Week in SCORE curriculum.  Conference preparation material is sent out from the speakers a week in advanced and residents are reminded that more readings and modules are available on the SCORE website. 

Grand Rounds

This one-hour seminar provides updated on a range of cutting edge topics from our Northwestern faculty as well as numerous prominent visiting professors each year.

Skills Lab Curriculum

Skills sessions are simulations housed in our NU Simulation Center.  Curricula are broken up between the intern, mid-level, and senior residents. Each session is facilitated by a designated faculty member who leads the teaching and provision of feedback within the simulation.  Mentored practice sessions are also planned throughout this series to allow additional protected practice time with peer and faculty feedback.  Skill acquisition is verified via "Verification of Proficiency" exams, where residents are evaluated by faculty and provided feedback on skills they have mastered and those skills in need of additional practice.


Morbidity & Mortality Conference

Each week, residents electronically report cases appropriate for presentation at M&M.  A designated faculty member moderates the discussion and selects the patient cases to be presented.  Each resident, having discussed the case with the faculty member prior to M&M, reviewed the appropriate literature and pertinent details, classifies the cause(s) of the patient's morbidity or mortality and presents a summary.  The focus is not on blame or shame, but rather on what could have been done differently or better in an effort to best meet patients needs.
For more information please see our Morbidity & Mortality page.
Resident Seminar Series

This conference exists to include non-clinical subjects important to the development of a well-rounded surgeon.  The topics correlate to the ACGME core competencies.  Sample topics have included "Ergonomics in Surgery", "Financial Planning", and "Improve Based Team Training". 
The Resident Performance Evaluation System is designed to standardize the collection, communication and follow-up of resident performance evaluation data. It serves to clarify expectations of the residents and provides for a regular and timely formative (feedback) and summative (overall) evaluation system that meets the needs of residents and due process guidelines.
The information is used to:
Make decisions on promotion across residency years
Provide data to specialty boards for certification as requested
Write letters of recommendation
Identify areas of marginal performance and initiate corrective measures
Note trends of weaknesses so to target needed modifications in the program.
Autonomy Maps
In an effort to promote resident autonomy in the OR, we have created process maps for the most common procedures on each rotation to help create a shared mental model between attendings and learners. By creating a shared mental model of the steps for each procedure, attendings and residents will be able to do a briefing before each of these procedures to identify (1) where the resident should be at the beginning and end of each rotation, and (2) where the resident should be per their PGY year.
Here is an example of one of the autonomy maps, featuring the Zwisch scale.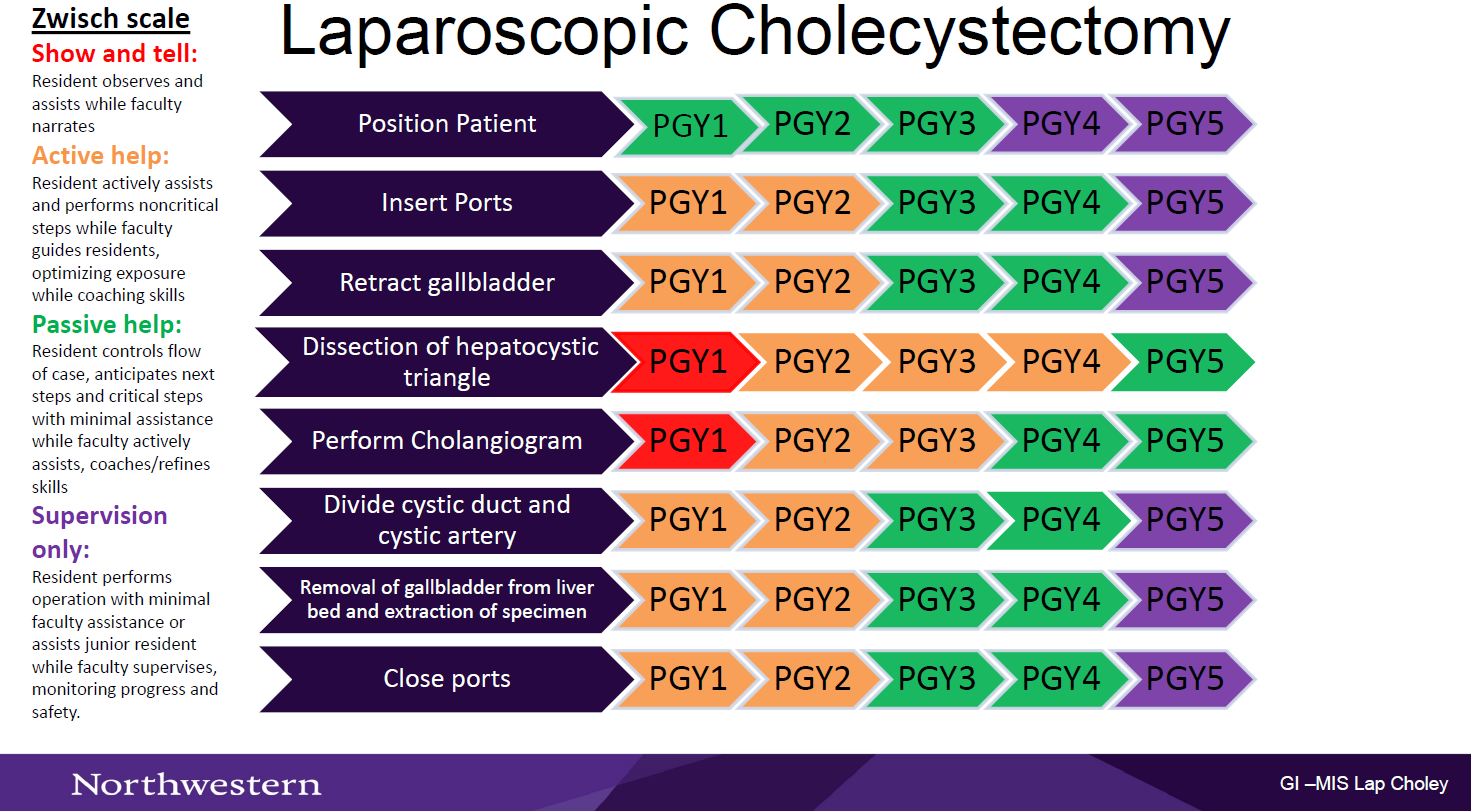 Assessments
SIMPL
The SIMPL App is used for formative assessment or constructive feedback and is given in an ongoing manner as an aid to learning. It is a convenient and reliable assessment tool that pairs with EPIC to allow frequent, real-time workplace assessment and feedback. 
Formative Assessment
Formative assessment or constructive feedback is given in an ongoing manner as an aid to learning. Its aim is to provide in a routine manner information that helps a resident understand what they did well and what they need to improve upon. Sources for formative assessment include the faculty, peers and self-assessment.
Summative Assessment
Summative assessment that reviews overall performance is carried out every six months. Performance data are used to assign residents an overall performance rating to help them gauge progress.
Exemplary = Advance/promote with commendation for superior performance
Satisfactory = Advance/promote - performance fully satisfactory
Minor Deficiency = Retain/promote - minor concerns about performance
Major Deficiency = Retain/promote - major concerns about performance - letter of concern
Critical Deficiency = Retain but not promote next level - probationary status for serious concerns
Exams
ABSITE: The American Board of Surgery In-Training Exam.
Mock Oral Exam: This exam is taken by fourth- and fifth-year residents every year. It is developed and administered in collaboration with two other surgery residency programs so residents are evaluated by surgical faculty they do not know to avoid potential rater bias and to mimic more closely the ABS oral exam.
Verification of Proficiency Exam: This exam is given to first- and second-year residents in the spring to determine their proficiency of specified technical skills learned in the skills laboratory.
Quality Improvement

Residents work on the "front lines" of healthcare.  Once they graduate, they will be charged in ongoing quality assurance for the care of their patients.  During their first year, residents undergo DMAIC craning (Define, Measure, Analyze, Improve, Control) and determine a project surrounding issues that influence the safety, efficiency and quality of patient care.  During their PGY 2&3 years, residents collaborate with hospital administration to address a systems-based practice problem of mutual interest.  Residents work with the other members of the task force to resolve the problem using the DMAIC method and present the outcomes of their projects at a Grand Rounds session dedicated to quality improvement.
See past Surgical Resident Quality Improvement projects.