General Surgery Residency Program
Education is the critical mission of the Northwestern University Feinberg School of Medicine's Department of Surgery, and the faculty and staff within the department are deeply committed to the General Surgery Residency Program. To accomplish this mission, we have evolved a dynamic clinical curriculum that prioritizes education over service, a faculty trained to teach and hired with clear expectations of their role as facilitators of learning, and an educational structure that values residents as a group of individuals with separate learning needs and ambitions.
General Surgery Residency Virtual Town Hall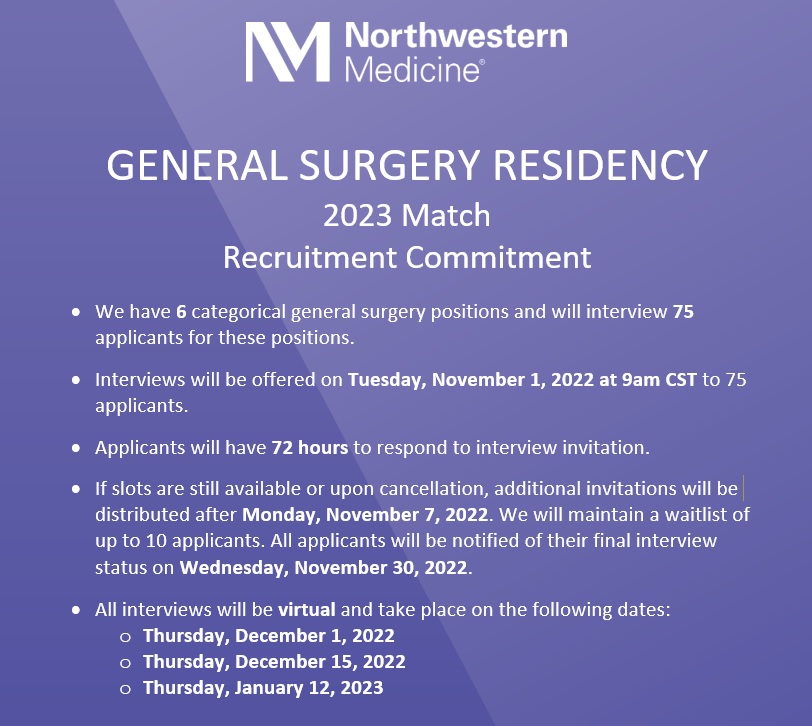 How to Apply
Individuals interested in applying to the general surgery residency program of the McGaw Medical Center of Northwestern University must submit their application via the Electronic Residency Application Service (ERAS) only. We do not accept any paper applications.
Our application review process will begin on September 28, 2022. The deadline for application is October 15, 2022. Applications received after that date will not be reviewed.
A complete application includes the following:
ERAS application
Three letters of recommendation
Personal statement
USMLE transcript (no minimum score requirements)
Medical school transcript
Medical school performance evaluation (dean's letter)
ECFMG certificate (if applicable)
Review our Resident Selection Policy
Interviews for the General Surgery residency program for 2022-2023 application cycle will be held virtually. Interviews are by invitation only and are required for acceptance to our program. Applicants who we wish to invite to interview will be notified via email by begining of November.
We have three virtual interview dates this year:
Thursday, December 1, 2022, 9am-2:30pm CST
Thursday, December 15, 2022, 9am-2:30pm CST
Thursday, January 12, 2023, 9am-2:30pm CST
We will host one virtual program informational session so applicants can get to know our program better. This virtual informational session is open to all applicants and range in topics from clinical duties, research, curriculum, and culture/diversity. It will be held on Wednesday, September 14th from 7:00pm-8:30pm CST.
Register in advance for this webinar:
https://northwestern.zoom.us/webinar/register/WN_3gMfPHXWSSGFhoXRyjh9gA
No previous U.S. clinical experience is required to apply to our program.
We do not have a minimum/maximum number of years from medical school graduation date requirement.
The preferred visa for training at the McGaw Medical Center of Northwestern University is the J-1 visa sponsored through the ECFMG for residency/fellowship training.  Applicants should be ECFMG-certified by the application deadline of Oct. 20. 
Applicants with H1-B visas are encouraged to apply.  Please also have visa information included in your application due by the Oct. 20 deadline.
The Department of Surgery strives to create and maintain training programs that mirror the diverse patient population we serve in Chicago. We believe that diverse faculty, residency and fellowship programs are essential to our long-term success as leaders in academic medicine. As such, we embrace diversity as part of our commitment to excellence in our mission areas of patient care, research and education. The Department of Surgery strongly encourages applications from candidates from groups traditionally under-represented in medicine.
Please see the below list of initiatives our department has implemented recently in order to improve diversity, equity & inclusion:
Creation of a Diversity, Equity & Inclusion Committee, led by Dr. Alyssa Vela and Dr. Juan Carlos Caicedo-Ramirez, and comprised of residents, fellows, faculty, and staff
Implementation of a holistic recruitment application review process and interview format
Cost coverage for residents' SBAS, LSS, AWS & AOSA society memberships
Increased Grand Rounds topics in these areas, such as Microaggressions Training and Simulation, Cultural Complications M&M, and more
Implementation of a Non-Clinical Mentorship Program for residents, with mentorship topics such as financial planning, being a minority in surgery, leadership development, and family planning
Participation and administration of SECOND Trial
Learn more about our diversity efforts at Northwestern University Feinberg School of Medicine and the McGaw Medical Center of Northwestern University.
Mackenzie Krueger
General Surgery Administrative Manager
Jenna Little
Housestaff Coordinator
Terri Young
Housestaff Assistant
Starzl Academy for Physician-Scientist Training
Our General Surgery residents are highly encouraged but not mandated to complete one to three years of research following their PGY-3 year. We offer a wide range of resources, mentorship opportunities and training to help our residents excel as physician-scientists. Explore all of the resources and hear from housestaff who are making research a major part of their career development plans.
VISIT STARZL ACADEMY SITE