The Division of Thoracic Surgery at Northwestern University Feinberg School of Medicine is among the top programs in the country for clinical care, research and education. We offer the most advanced surgical treatments across the entire spectrum of thoracic diseases based on cutting-edge medical research. We constantly strive for excellence within all aspects of academic thoracic surgery and work to develop innovative solutions for all of our patients, with both simple but also the most complex medical conditions.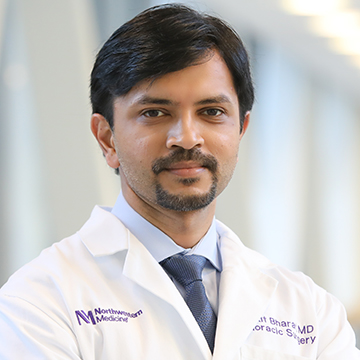 What We Do
The Division of Thoracic Surgery is NIH-funded for research in thoracic oncology, lung transplantation and transplant and tumor immunology. Our research has been directly translated into clinical care to fundamentally improve our patient outcomes.
Our research efforts include both basic science investigation as well as health services research. In the basic science arena, we use highly sophisticated tools such as single cell transcriptomics, spatial proteomics, two photon imaging, animal solid organ transplant and humanized mouse models to find solutions to clinically relevant problems. The health services research is directed toward the improvement of surgical outcomes in patients undergoing cancer surgery, lung transplantation, and treatment with extracorporeal membrane oxygenation.
In addition, our clinical research team has developed a clinical trial portfolio that includes both device and drug testing. Our multidisciplinary research team comprises of NIH-funded investigators from different departments and schools within Northwestern University as well as academic institutions across the country. We are also highly committed to the research training of our housestaff and provide funding for interested candidates.
Our patients can expect to be treated as though they were a member of our family, with the utmost attention to detail and compassion. Patients will receive the best care possible for their medical condition from every member of our team. Our outcomes are among the best in the nation, and we take great pride in formulating individualized care plans for each patient based upon their specific condition and needs, rather than simply following a generic "cookie-cutter' approach. Additionally, we are committed to exploring all possible care options and creating innovative solutions to seemingly untreatable thoracic diseases.
Support What We Do
We invite your philanthropic partnership in helping us achieve our research and teaching missions each day.
Make an online donation