Vascular Surgery Integrated Residency Program
Welcome to the Northwestern Vascular Integrated Residency!
We are humbled by your interest in our program. We invite you to learn more about our training experience by watching our program video, visiting our division's webpages, and most importantly - contacting our office to learn more about who we are as a division and the patients we serve. 
Established in 2009 by Dr. Mark Eskandari, the Northwestern Vascular Surgery Integrated Residency Program is one of the earliest integrated training programs developed nationally. The seven-year program (five clinical years and two mentored research years) provide trainees with the necessary stills and tools to launch a successful academic career in Vascular Surgery. During training, residents develop the foundational skills of general and vascular surgery in the first three years followed by a two year mentored research experience focused on one of three pathways: 1) basic science/transitional research; 2) health services/outcomes research; or 3) biomedical engineering. The remaining last two years are entirely focused on vascular surgical care with rotations primarily at the downtown campus in addition to time spent at the Jesse Brown Veterans Affairs Medical Center and Lake Forest Hospital.
The primary goal of the Vascular Surgery Integrated Residency Program is to produce competent vascular surgeons able to provide comprehensive, compassionate care for patients with complex vascular diseases using advanced open and endovascular techniques and equipped to advance in academic and leadership positions. We provide vascular surgery education in a busy tertiary referral center that deals with complex vascular problems. Our Division of Vascular Surgery prides itself on a strong academic tradition and values innovation, diversity and excellence.
Our training program provides a comprehensive, broad-based experience in medical, traditional open, and complex endovascular care as well as outpatient venous care. In addition, out program provides surgical support for a variety of other surgical services including neurosurgery, orthopedic surgery, surgical oncology, and urology. We look forward to having you learn more about our program, current trainees, and alumni.
Key highlights of our program include:
Our 5+2 and 0+5 vascular training programs work in tandem, providing a successful training complement.
A NIH T32 Training Grant

 

provides (established in 2009), allows residents with the opportunity to complete a 2-year, research experience during the 3rd and 4th years of residency.
We maintain a robust group of physician extenders that protects the learning environment of our residency.
Three core vascular faculty hold appointments at Jesse Brown VA Hospital, a participating site. 
Given the excellent reputation of our division, we are referred many complex, re-operative cases, which provides exposure to our residents and fellows.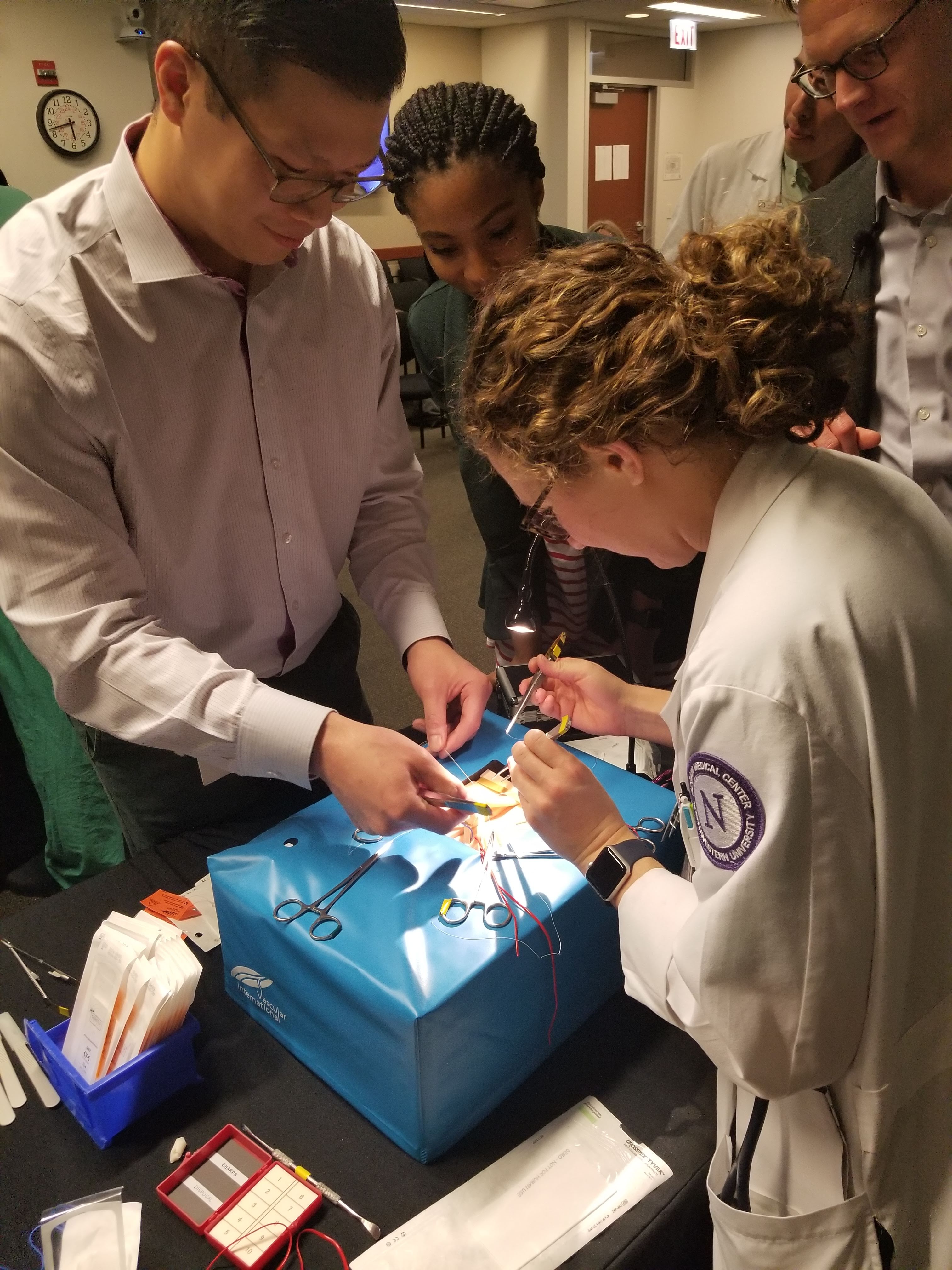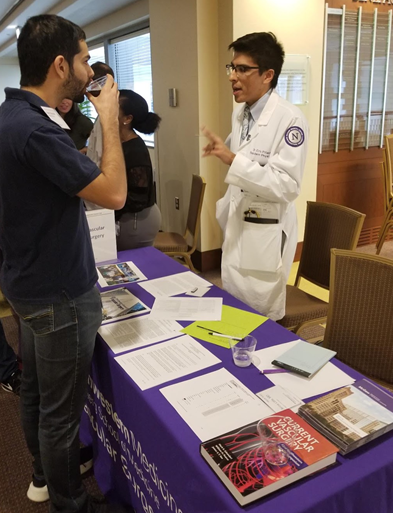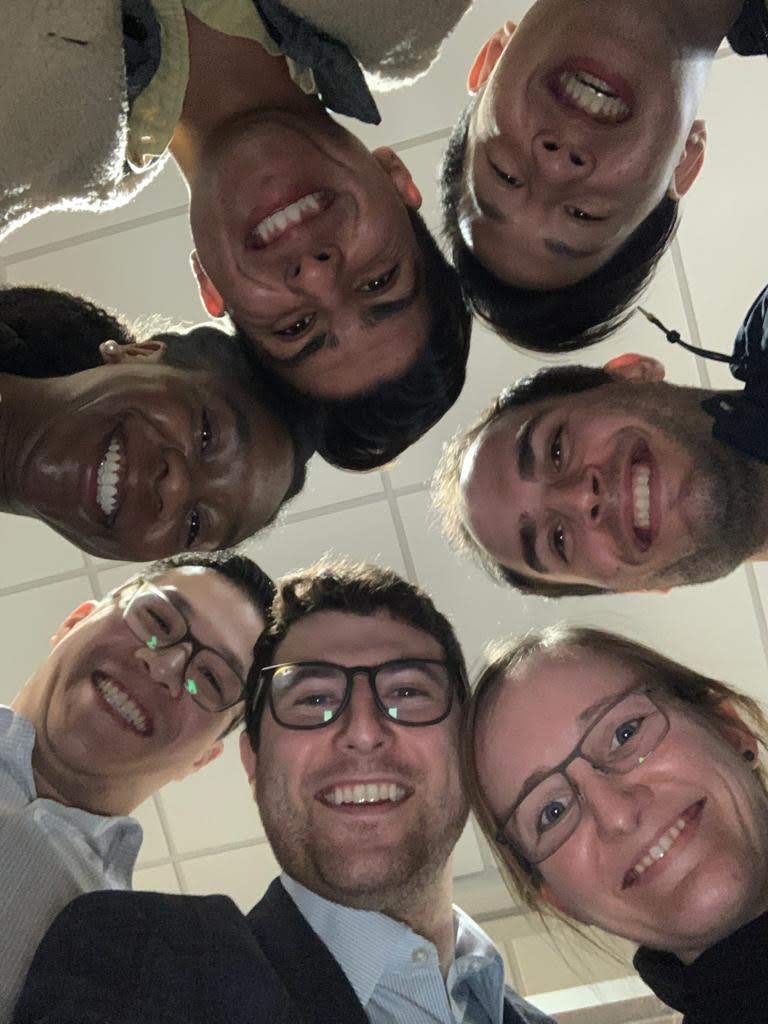 The program curriculum consists of three years of core general surgery training, with emphasis on 15 months (divided among PGY 1-3) or 39 months (total) spent in vascular surgery rotations. A National Institutes of Health (NIH) T32 Grant gives residents the opportunity to complete a two-year research experience during the third and fourth years of residency. The last two years of residency are dedicated to endovascular and open vascular surgery education, which parallels our 40-year-old traditional fellowship program.
The majority of the education is received at our primary site, Northwestern Memorial Hospital in Chicago. Additional exposure to diverse socioeconomic populations is provided through rotations at the Jesse Brown VA Hospital and Northwestern Medicine Lake Forest Hospital. Each site has sufficient clinical volume in open and percutaneous endoluminal interventions to satisfy training requirements.
Graded independence is the teaching model of our program. With the advancement of each clinical year, the experience and responsibility in the inpatient management and operative care of vascular patients increases. During vascular rotations, residents spend one day per week in the vascular outpatient clinic, in addition to their inpatient experience. 
In addition to the general surgery faculty involved during the first three years of residency, six board-certified vascular surgeons with strong academic profiles participate in the education of the residents.
Our strong academic tradition and status as tertiary referral center for vascular diseases allows the program to expose residents to a wide variety of highly complex vascular issues with an emphasis in academic development. Upon program completion, candidates will be eligible for primary certification in Vascular Surgery.
PGY-1

4 months Vascular Surgery (2 NMH & 2 VA)

3 months General Surgery

1 month Thoracic Surgery

1 month Plastic Surgery

1 month Surgical Oncology

1 month Colorectal

1 month Surgical Intensive Care Unit (SICU)

PGY-2

6 months Vascular Surgery (3 NMH, 2 VA, & 1 LFH)

2 months Transplant Surgery

1 month Breast

1 month Plastic Surgery

2 months SICU

PGY-3

6 months Vascular Surgery (3 NMH, 2 VA, & 1 LFH)

2 months Cardiac Surgery

1 month Thoracic Surgery

1 month Plastic Surgery

1 month Surgical Oncology

1 month Endocrine Surgery

2-Year Research Experience (required)

PGY-4
12 months of Vascular Surgery (6 NMH & 6 VA)
PGY-5

6 months of Vascular Surgery (NMH & LFH)

2 months Vascular Laboratory

2 months Interventional Radiology (IR)

2 months Clinical Research
Subspecialty rotations in Interventional Radiology and the Vascular Laboratory occur during the fifth year of residency at our primary training site. Time spent in the Vascular Laboratory interpreting noninvasive studies, along with the Blood Flow Curriculum, allows trainees to qualify for the Registered Physician Vascular Interpretation. 
Candidates for the Vascular Surgery Integrated Residency Program (0+5) must earn a medical degree from an accredited medical school before the start of residency. The program participates in NRMP and ERAS; therefore, all candidates participate in the Main Residency Match in mid-March. Complete applications must be submitted to ERAS for review by mid-Oct.
Required components of the application process include:
A completed AAMC-NRMP application for Vascular Surgery Residency
A letter from the medical school dean's office
An official copy of your USMLE scores
An official medical school transcript
Two letters of reference preferably from vascular surgery faculty members
After careful review by our faculty, selected applicants will receive email invitations for formal, virtual interviews.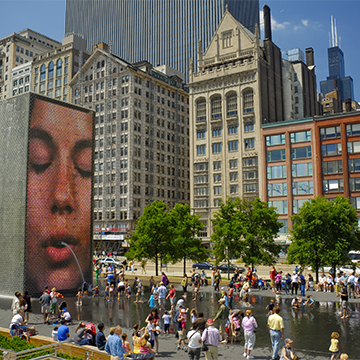 Housestaff training through McGaw Medical Center of Northwestern University provides diverse and challenging clinical experiences and world-class education located in the heart of the beautiful city of Chicago. Learn more via the links to the McGaw website below.
Watch Our Videos
McGaw Experience Discover Feinberg Northwestern Medicine Community Partnership Program Learn More About Chicago Get to Know Streeterville
Contact Us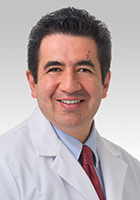 Heron E. Rodriguez, M.D.
Professor of Surgery & Radiology
Program Director
312.695.6107
Hemali Shah C-TAGME, PACE
Program Coordinator
hemali.shah( at )nm.org
676 N. Saint Clair Street, Suite 730
Chicago, IL 60611
312.695.6107
Physician-Scientist Training & Resources
We offer a wide range of resources, mentorship opportunities and formal training programs to help our residents and fellows excel as physician-scientists. Explore all of the resources and hear from housestaff who are making research a major part of their career development plans.
VISIT THE STARZL ACADEMY SITE