Vascular Surgery Scientist Training Program
The Vascular Surgery Scientist Training Program at Northwestern University, which is funded by a T32 grant from the NIH, is a two-year mentored research training experience for general and vascular surgery residents (MD/DO) interested in research-oriented academic careers.
The T32 funding mechanism provides a stipend, tuition, fees for coursework, travel funds and health insurance.
Our goal is to provide trainees with the scientific environment, didactic training, career development mentorship, and opportunities for collaboration required to jump start careers as surgeon-scientists.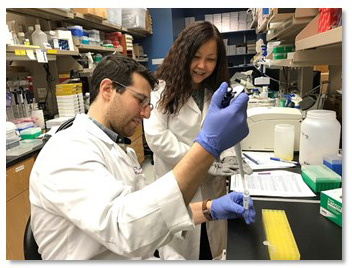 Individualized training plans are developed by the mentor and trainee. Trainees can choose mentors and secondary mentors from many different clinical specialties and research fields and select one of several tracks of study or a combination of tracks:
Vascular biology with a basic science emphasis
Clinical research including outcomes studies
Biomedical devices in partnership with the Department of Biomedical Engineering
An integrated program designed by the trainee and his/her mentors
 Curriculum
In addition to their chosen track, all trainees also complete a core curriculum consisting of courses in responsible conduct for research, ethical issues in clinical research and scientific writing. Trainees are also able to take additional courses in their area of focus. If interested, trainees may also complete the requirements for the Master of Science or certificate in Health Services and Outcomes Research.
 Eligibility & Requirements
Candidates must hold either an MD or DO degree and must have completed at least two years of surgical residency training prior to enrolling in the program. Candidates must be U.S. citizens, nationals or have been lawfully admitted for permanent residence at the time of the appointment. Minorities and women are encouraged to apply.
 How to Apply
If you have questions, please contact the T32 coordinator:
Marsha Blunt
676 N. St. Clair St., Suite 650
Chicago, IL 60611
marsha.blunt@nm.org
Our Team
Program Leadership
Mentors
 Vascular Biology
 Clinical Trials/Outcomes
 Biomedical Devices
Current Trainees
Matthew C. Chia, MD: 7/1/19-Present
Mentor: Karl Y. Bilimoria, MD
Co-Mentor: Ashley Vavra, MD, MS
Track: Clinical Outcomes
Research Interests: Identify and understand factors that contribute to quality patient care in vascular surgery
Vivek Pamulapati, MD: 7/1/19-Present
Mentor: Karen J. Ho, MD
Track: Vascular Biology
Research Interests: Investigating the microbiota-, butyrate- and host-dependent mechanisms of neointimal hyperplasia after arterial injury
Andres Guerra, MD: 7/1/20-Present
Mentor: Ashley Vavra, MD, MS
Co-Mentor: Karl Y. Bilimoria, MD
Track: Clinical Outcomes
Research Interests: Patient care optimization and quality improvement in vascular surgery
Ruojia Debbie Li, MD, MS: 7/1/20-Present
Mentor: Ashley Vavra, MD, MS
Co-Mentor: Ryan P. Merkow, MD, MS
Track: Clinical Outcomes
Research Interests: Patient care optimization and quality improvement in medicine
Back to top