Lanterman Vascular Surgery Student Research Program
Through the generous support of the Joseph B. & Marjorie M. Lanterman Endowed Research and Education Fund in the Division of Vascular Surgery at Northwestern University Feinberg School of Medicine, we offer a research program geared towards students interested in pursuing a mentored clinical or basic science surgical research experience.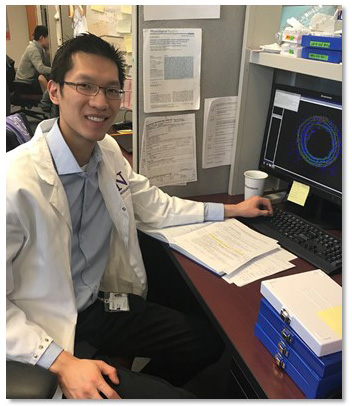 The goal of the program is to introduce students (high school, undergraduate or medical school) to the challenges and excitement of research and to inspire trainees toward academic careers that incorporate basic biomedical and clinical research. Students will be mentored by a faculty member within the Division of Vascular Surgery and will work on a specific research project.
Two awards will be given each year based on the candidates' interest, commitments and demonstrated abilities. There is a $3,500 stipend, and the award entails an eight-week commitment of full-time research (35-40 hours per week).
Click here for Program Information
Contact Us
For additional information and application materials, please contact Marsha Blunt at marsha.blunt@nm.org or 312-926-7775. The next deadline is March 1, 2023.
Program Director
Mark Eskandari, MD
Chief, Division of Vascular Surgery
The James S.T. Yao, MD, PhD, Professor of Surgery
Professor of Vascular Surgery in the Department of Surgery, Medical Education and Radiology
Current and Past Recipients
| Year | Name | Affiliation | Mentor |
| --- | --- | --- | --- |
| 2015 | Morgan Scott | New Trier High School | Karen J. Ho, MD |
| 2016 | Brian Cheng | Northwestern Weinberg College of Arts & Sciences | Andrew W. Hoel, MD |
| 2017 | Owen Eskandari | New Trier High School | Karen J. Ho, MD |
| 2017 | Kelly Wun | Northwestern Feinberg School of Medicine | Karen J. Ho, MD |
| 2018 | Katherine Shapiro | Washington University in St. Louis College of Arts and Sciences | Karen J. Ho, MD |
| 2018 | Jason Linh Ngo Khanh | Northwestern Feinberg School of Medicine | Karen J. Ho, MD |
| 2019 | Falen Demsas | Geisel School of Medicine at Dartmouth | Karen J. Ho, MD |
| 2019 | Maeve Eskandari | New Trier High School | Karen J. Ho, MD |
| 2020 | Nina Byskosh | Northwestern Feinberg School of Medicine | Karen J. Ho, MD |
| 2020 | Richard Chen | Niles West High School  | Karen J. Ho, MD |
| 2021 | Eric Murphy | University of South Carolina | Tadaki Tomita, MD |
| 2021 | Erik Wu | Northwestern Feinberg School of Medicine | Karen J. Ho, MD |
| 2022 | Alexis Barraza | University of Colorado at Boulder | Ashley K. Vavra, MD |
| 2022 | Tanvi Nayak | Northwestern Feinberg School of Medicine | Andrew W. Hoel, MD |
| 2022 | Katia Valdez | Northwestern Feinberg School of Medicine | Karen J. Ho, MD |