Advanced Lung Failure & Complex Thoracic Surgeries Fellowship
The Advanced Lung Failure & Complex Thoracic Surgeries Fellowship is a two-year program focusing on lung transplantation, mechanical respiratory support (ECMO) and conventional surgeries for lung failure, including lung volume reduction. The training includes all aspects of lung transplantation. The fellow will acquire the skills to lead a lung failure program and will have an optional three-month research elective to pursue clinical or basic science research projects.
Our division performs over 1,000 thoracic surgeries annually. With our integrated interventional pulmonary and end-stage respiratory disease programs, this fellowship will offer a broad training in lung failure.
 Clinical Experience
The three years of the program consist of rotations in thoracic surgery, cardiac surgery, congenital heart surgery and cardiac catheterization. Residents take on graduated responsibility for increasingly complex patients and operations and learn to manage a busy and complicated practice in preparation for independent practice after graduation. The thoracic surgery rotations focus on the diagnosis and treatment of common and complex pathologies of the lung, airway, esophagus, chest wall and mediastinum. The Robert H. Lurie Comprehensive Cancer Center of Northwestern University provides a wide range of experience in malignant lung and esophagus tumors as well as metastatic disease to the chest, malignant pleural disease, mediastinal tumors and chest wall masses. There is extensive multidisciplinary collaboration establishing a model for patient-centered care. Close relationships with pulmonary medicine and primary care practices ensure residents are well-versed in the diagnostic and therapeutic techniques for benign lung, airway and pleural disease as well. The newly opened lung transplant program extends these experiences to include treatment of advanced end-stage lung disease via lung volume reduction and single and bilateral lung transplant. Finally, our service is intimately involved with the Gastroenterology Esophageal Motility Disorders Center at Northwestern, which sees a large volume of patients with complex benign esophageal disease, including failed anti-reflux procedures and end-stage achalasia.
The adult cardiac surgery rotations in the early portion of training focus on use of cardiopulmonary bypass to treat straightforward ischemic and valvular disease. As residents become comfortable with the basic skills and concepts, they take on graduated responsibility for increasingly complex patients and operations and learn to manage a busy and complicated service. During the second year, the residents spend one month in the cardiac cath lab to learn advanced wire skills in preparation for performing endovascular aortic and valvular procedures. The cardiac experience culminates in the cardiac surgery chief position for six months in the final year, during which the resident runs all of the day to day activities of the service.
The congenital heart disease rotation occurs near the end of the second year at the Ann & Robert H. Lurie Children's Hospital of Chicago across the street from Northwestern Memorial Hospital. This experience is designed to provide residents with an appreciation of the spectrum of congenital heart disease as well as an enhanced understanding of cardiac hemodynamics, which can be applied to adult disease. Certification in congenital heart disease does require an additional year of training. However, for those with an interest in congenital surgery, additional time can be spent at Lurie Children's during the third year. Three months of elective time in the third year is designed to allow residents to focus in an area of specific professional interest. This may include heart failure, congenital heart disease, great vessel disease, lung transplant, minimally invasive thoracic surgery or other areas.
 Requirements & Eligibility
Completion of a five-year, ACGME-approved general surgery training program or equivalent before the anticipated fellowship start date is required for all applicants. Our application review committee considers the entire application. Therefore, we do not have any minimum score requirements.
International Medical Graduates
No previous U.S. clinical experience is required to apply to our program. We do not have a minimum/maximum number of years from medical school graduation date requirement. The preferred visa for training at the McGaw Medical Center of Northwestern University is the J-1 visa sponsored through the ECFMG for residency/fellowship training. Applicants should be ECFMG-certified by the application deadline (Nov. 1).
 Application Process
Applications must be submitted by Nov. 1 via the Electronic Residency Application Service (ERAS).
A complete application includes the following:
ERAS application
Three letters of recommendation
Personal statement
USMLE transcript
Medical school transcript
Medical school performance evaluation (dean's letter)
ECFMG certificate (if applicable)
ABSITE transcripts
Personal interviews are by invitation only and are required for acceptance to our program. Those we wish to invite to interview will be notified via ERAS email. The selection committe will have two invite-only interview dates in spring.
Contact Us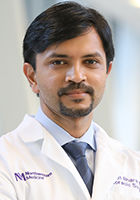 Ankit Bharat, MBBS
Program Director
Kelly Hrdy
Program Coordinator
kelly.hrdy( at )nm.org
312-926-5136
Graduate Research Resources
We offer a wide range of resources, mentorship opportunities and training to help our residents and fellows excel as physician-scientists. Explore all of the resources and hear from housestaff who are making research a major part of their career development plans.
VISIT THE HOUSESTAFF RESEARCH PORTAL
Back to top