Breast Surgery Fellowship
The modern management of breast disease requires an in-depth knowledge of not only surgery, but breast imaging, image-directed biopsy techniques, pathology, radiation oncology and medical oncology. The non-accredited Breast Surgery Fellowship enhances the basic knowledge of the management of breast disease acquired by a general surgical trainee, particularly in the non-surgical disciplines. Additionally, the fellowship is designed to be a multidisciplinary experience and provides exposure to medical oncology, breast imaging, pathology, genetics and radiation oncology in addition to six months on the surgical services. Successful completion of a five-year accredited program in general surgery is a prerequisite. The breast fellowship will enable the resident to acquire an advanced body of knowledge and level of skill in the management of breast disease in order to assume a leadership role in teaching and research in the field.
How to Apply
You must submit two applications:
Prospective fellows must successfully complete a residency in general surgery and be board-eligible in general surgery and a U.S. citizen or permanent resident. Applicants from outside the United States must have passed the USMLE, FMGEMS, TOEFL or FLEX and be able to secure a medical license from the State of Illinois.
Contact Us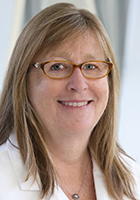 Nora Hansen, MD
Program Director
nhansen( at )nm.org
Burton Korman
Program Coordinator
bkorman( at )nm.org
Fellows
Valentina V Bonev, MD
MD: University of California, Irvine
Residency: Loma Linda University Health
Carlos Vieira, MD
MD: Universidade Federal do Parana- Brazil
Residency: Indiana University
Graduate Research Resources
We offer a wide range of resources, mentorship opportunities and training to help our residents and fellows excel as physician-scientists. Explore all of the resources and hear from housestaff who are making research a major part of their career development plans.
VISIT THE HOUSESTAFF RESEARCH PORTAL
Back to top