Northwestern Surgical Simulation
Technical Skills Simulation
Skills sessions are housed in our NU Simulation Center.  Curricula are broken up between the intern, mid-level, and senior residents.  Each session is facilitated by a designated faculty member who leads the teaching and provision of feedback within the simulation. Mentored practice sessions are also planned throughout this series to allow additional protected practice time with peer and faculty feedback.  Skill acquisition is verified via "Verification of Proficiency" (VOP) exams, where residents are evaluated by faculty and provided feedback on skills they have mastered and those skills in need of additional practice.  All residents are required to pass their VOP before beginning supervised practice on patients.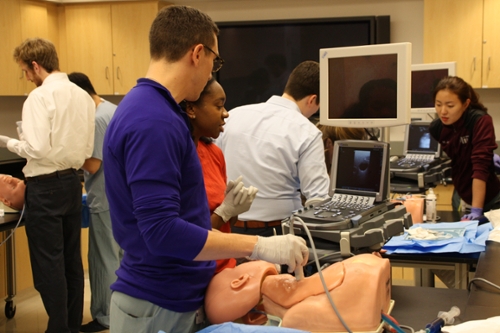 Northwestern's Surgical Technical Skills training begins with a two day Boot Camp during the new resident orientation week. These introductory days cover basic surgical and ICU skills that first year residents would have opportunities to then complete on patients under supervision. Following the introductions during the Boot Camp, PGY 1 residents continue to refine their skills in the Intern Skills curriculum before being tested for verification of proficiency.  These basic surgical & ICU skills include but are not limited to: suturing, biopsy and wound closure, central line placement, arterial line placement, foley catheter placement, chest tube placement, cricothyrotomy, FAST, ATLS, laparoscopy, and laparotomy.
Also during the PGY 1 year, residents complete an ICU Preparedness Course where they have in-depth simulations and lectures covering: sepsis & shock, bronchoscopy & tracheostomy management, ventilators, arrhythmias & PAC utilization, neurogenic shock & neurologic dysfunction, hepatic failure & hepato-renal syndrome, and renal failure.
Our Mid-Level Skills curriculum covers more advanced surgical simulations that include endoscopy, laparotomy, ultrasound led biopsy, hand-sewn & stapled anastomosis, vascular Anastomosis, and tissue graft. 
Our Senior Skills curriculum covers surgical procedural based simulations, where residents work in groups with faculty to complete a full simulated procedure.  Most of the skills are taught in three parts which include open hands-on techniques, laparoscopic or endoscopic techniques, and robotic techniques.  Areas that are covered in this curriculum includes but are not limited to: trauma laparotomy, colorectal endoscopy, ventral and inguinal hernia repair, kidney transplantation, foregut repair, and vascular repair.
Virtual Reality & Robotics
The Department of Surgery offers educational curriculums on fundamentals of laparoscopic surgery, fundamentals of endoscopic surgery, and fundamentals of robotic surgery.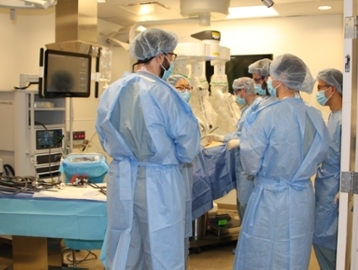 Fundamentals of Laparoscopic Surgery
FLS certification is required for all General Surgery and Thoracic Surgery residents.  Orientation and access to the SAGES online curriculum material is given during the PGY 1 year.  Residents are then required to complete any online requirements, dry lab simulations, and basic & advanced Verification of Proficiency examination during their PGY 1&2 years.  During their PGY 2 year, residents will also register and complete the SAGES FLS certification exam.  During residents' senior years they are offered numerous simulated opportunities to refine their skills, as well as supervised evaluation by faculty during patient encounters. 
Fundamentals of Endoscopic Surgery
FES certification is required for all General Surgery residents.  Orientation and access to the SAGES online curriculum material is also given during the PGY 1 year.  Residents are then required to complete virtual reality modules and an advanced endoscopy simulation during their PGY 1&2 years.  During their PGY 3 year, residents are required to complete the SAGES FES certification exam.  Further opportunities for practicing endoscopic skills are offered during the residents' senior years through simulations and faculty supervised patient encounters.
Fundamentals of Robotic Surgery
Northwestern has created it's own Robotics surgery curriculum for all General Surgery Residents.  Orientation begins during the residents' PGY 1 year where they are given access to online learning modules.  They will then need to pass the required online virtual reality simulations.  During the residents' PGY 2 year they are able to have dry lab practice with robots utilizing the abdominal, inguinal hernia, anastomosis, suturing and tying models; as well as wet lab robotic simulations for gall bladder, ventral hernia & inguinal hernia.  Senior residents will continue to refine their skills during wet lab simulations for those listed procedures as well as for colorectal and laparoscopic foregut. 
Residents will have access to a video library of cases that have been broken up into procedural milestones to prepare for supervised patient cases.  They will be required to perform 10 cases as bed side assistant to show proficiency in docking and instrument changes.  They will then work with faculty who will be able to sign-off on their technical performance for each of those milestones.