Division of Vascular Surgery
Our Division
The Division of Vascular Surgery at Northwestern University Feinberg School of Medicine is one of the premiere vascular surgery clinical, research and training programs in the country.  Providing comprehensive arterial and venous care for nearly four decades, the division continues to train individuals who have gone on to become national leaders in vascular surgery.
The clinical training programs in the division cover the full spectrum of vascular care including treatment for aortic diseases in the thoracic and abdominal aorta, carotid surgery and stenting for stroke prevention, lower extremity arterial bypass and stenting for limb preservation, endovascular interventions for vascular disease, and a dedicated vein clinic focused on contemporary management of venous disorders.  In addition, the division is actively involved in a number of clinical research studies dedicated to the advancement of vascular care.  Current trials include medical treatment to slow aneurysm growth, newer generation stent grafts for aortic aneurysms, unique devices to treat lower extremity arterial disease, and stem cell and gene therapy for advanced lower extremity vascular disease.  Moreover, the division has a well-developed NIH-funded basic and translational research program.
Lastly, since 1974, the Northwestern Vascular Surgery Fellowship Program has continued to develop the next generation of vascular surgeons.  Many have been the recipients of Teaching Awards and many have gone on to become medical schhool deans, department chairs and division chiefs.  Training options include the traditional fellowship as well as the newer integrated residency paradigm.
Learn more about our work via the links below.
Meet our Faculty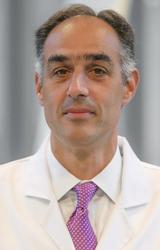 Message from the Chief
News
09.26.2017

Excellence in Teaching Award

08.10.2017

Rodriguez Distinguished Fellow Award
Recent Publications