John J. Bergan, M.D. Lectureship
The Division of Vascular Surgery at Northwestern University Feinberg School of Medicine honors the legendary, and pioneer surgeon Dr. John J. Bergan with an annual Lecture, incorporated into the Grand Round Series within the Department of Surgery.
---
Historical Context
Dr. Bergan is widely considered to be a founding father of modern day vascular surgery. As surgical resident at Northwestern University, Dr. Bergan trained under the guidance of Dr. Walter Maddock, the founder of the Society for Vascular Surgery. He advanced as a Northwestern surgical faculty member in 1959, and in 1971 was appointed Magerstadt Professor of Surgery.
His early research interests included pancreatitis which quickly led to explorations of vascular injury in this condition, and then to the study of intestinal ischemia. Additional research interests included renal transplantation, pancreatic transplantation and liver preservation. His research produced blood vessel-related innovations in prosthetic grafts, aneurysm biology, coagulation disorders, venous reconstruction.
In 1972, Dr. Bergan recruited Dr. James Yao and then established the noninvasive vascular laboratory, the Division of Vascular Surgery, and the Vascular Fellowship program in 1974. In 1976, Dr. Bergan was named the first Chief of the Division of Vascular Surgery. The Northwestern Vascular Symposium, now in its 43rd year, is also his brainchild.
Dr. Bergan was elected President of the Society for Vascular Surgery in 1984. He was the principal founder of the Midwestern Vascular Surgical Society and American Venous Forum and subsequently served as president of these two societies. Additionally, he served as president of the European-American Venous Symposium, the International Association of Vascular Surgeons, the Gulf Coast Vascular Society, the Southern California Vascular Surgical Society, and the American College of Phlebology.
As a researcher and prolific writer, Dr. Bergan's publication record includes more than 700 peer-reviewed articles, 39 books and book chapters, and invited commentaries. The 2006 co-edited cornerstone, The Vein Book, is considered one of the most authoritative works on veins and venous circulation.
In 1988, he discovered that some deep venous reflux disappeared after correction of superficial venous incompetence. His clinical work emphasized inversion stripping of the saphenous vein, recognition of superficial incompetence as the major cause of venous ulcer, and development of knowledge regarding the poor results obtained with proximal venous ligation as opposed to groin-to-knee stripping.
The Annual John J. Bergan Lectureship is borne out of recognition for the wealth of contributions Dr. Bergan made as a vascular surgeon, researcher, and educator. Each year, the division appoints an honorary guest speaker, whose work greatly contributes to the field of vascular surgery.
---
Bergan Annual Lectures
We invite you to watch the collection of past lectures.
past lectures

| | | |
| --- | --- | --- |
| 2013 | Peter Golviczki, M.D. | Chronic Venous Insufficiency and the Bergan Legacy |
| 2014 | William R. Flinn, M.D. | "I've Heard So Much About You;" John Bergan and the Northwestern Vascular Fellowship |
| 2015 | Ali AbuRahma, M.D. | Improvement of Carotid Endarterectomy Outcomes: My Experience Over 3 Decades and Level I Evidence |
| 2016 | Juan C. Parodi, M.D. | History of the Use of Flow Reversal for Cerebral Protection During Carotid Artery Stenting. Are Results Better Than Surgery? |
| 2017 | Lazar J. Greenfield, M.D. | The Filter at 45: Lessons Learned |
| 2018 | Thomas W. Wakefield, M.D. | Targeting Inflammation to Treat Thrombosis in VTE |
| 2019 | Jack Cronenwett, M.D. | Improving Care by Sharing Registry Data in the Vascular Quality Initiative |
Spotlight on the 2019 Lecture
The Division was delighted to host Dr. Jack Cronenwett, Professor of Surgery Emeritus at Dartmouth Hitchcock Medical Center on March 14, 2019.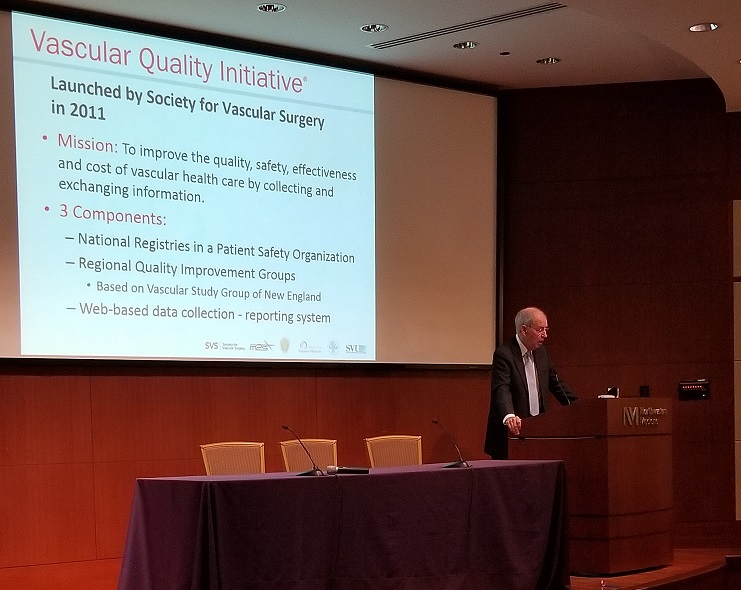 Dr. Cronenwett presented on, "Improving Care by Sharing Registry Data in the Vascular Quality Initiative."
Watch Dr. Cronenwett's Lecture
In keeping with the mission of the lecture, Dr. Cronenwett engaged surgical residents on the tenets of academic surgery in a career development session. 
The Division is proud of the Bergan Lecture series and is very grateful for all generous donations that solely support the operations of the Lectureship.
Save-the-Date for 2020 Lecture: 3/5/2020   
The Bergan Lectureship is solely supported by the generous donations of our donors.
Contributions to support the lectureship may be made by send a check payable to:
Division of Vascular Surgery, Northwestern University
To access the donation and pledge card, click here.
Donations and pledge cards can be mailed to:
Mark Eskandari, M.D.
Chief, Division of Vascular Surgery
Northwestern University Feinberg School of Medicine 676 North Saint Clair Street, Suite 650
Chicago, IL 60611
Thank you for your support.